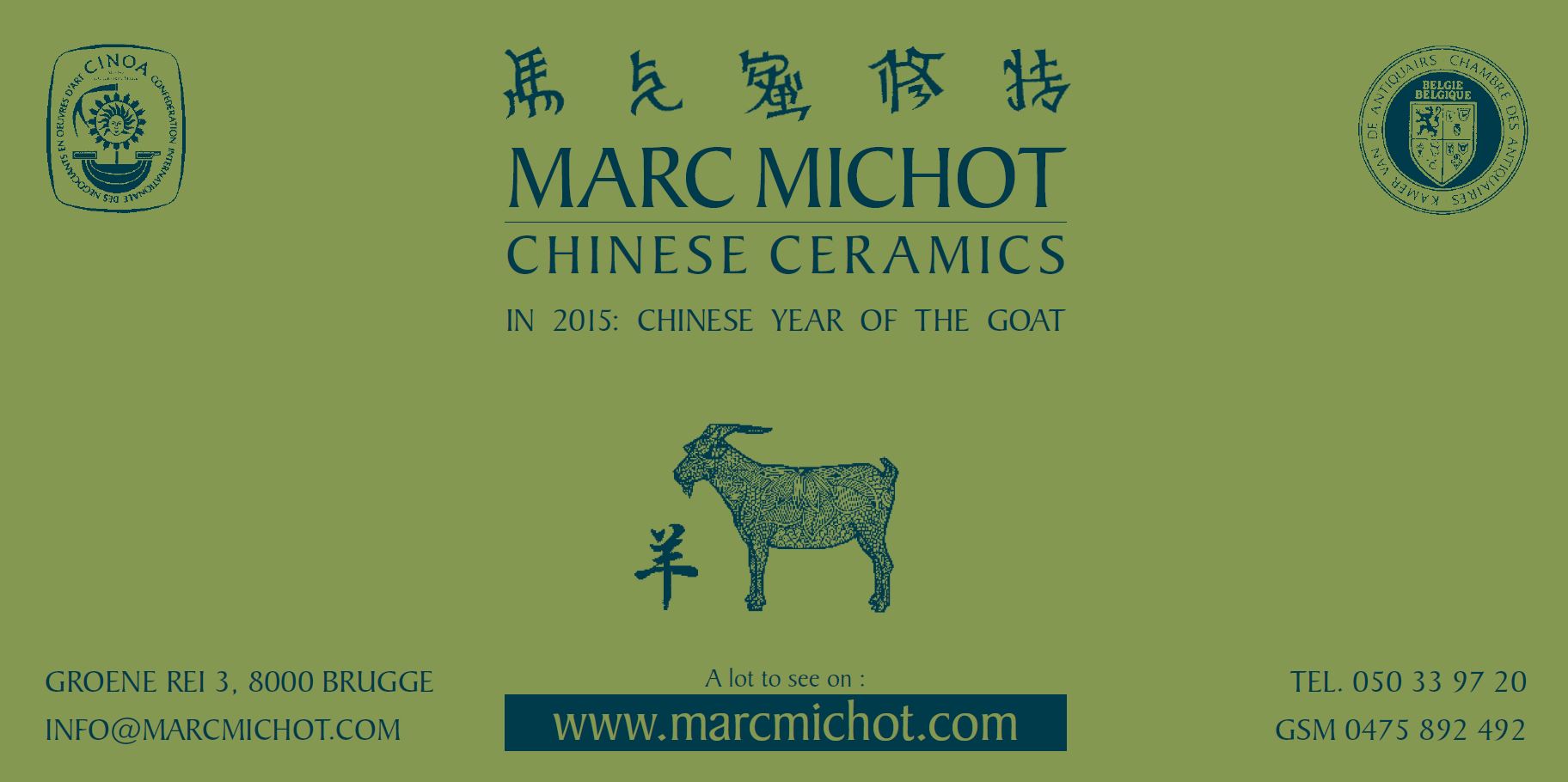 MARC MICHOT "Fine Chinese Ceramics", established in 1970
Groene Rei 3, B-8000 Brugge (Location map)
Tel: +32 (0)50 339720 - Fax: +32 (0)50 346720

E-mail: Info@MarcMichot.com
So for more than 40 years now, the gallery has offered a wide range of chinese ceramics & works of art of very fine quality. It is safe to say, that it is the only gallery in Belgium, covering the whole scala of ancient chinese works of art & ceramics. This begins in the Neolitikum period (ca 4000 BC), over the Shang, Han, Wei, Tang, Yuan, Ming and Qing periods, to end in 1930, when hand-made products were replaced by industrial production.

Emphasis is placed on rarity, quality, authenticity and condition of preservation. Each object on offer in the gallery has been very carefully checked on these strict conditions. It is automatically sold with a certificate of authenticity, including a condition report (very important for porcelain). The early archeological objects all have -imperatively- a thermoluminiscence-test.

For over 40 years now, MARC MICHOT has built worldwide an unsurpassed reputation of integrity, quality and authenticity.
Member of the following professional organisations:

· CINOA - Confederation Internationale des Negociants en Oeuvres d'Art
· Belgische Kamer van Deskundigen in Kunstwerken
· Chambre Belge des Experts en Oeuvres d'Art
· Nationale Kamer der Antiquairs van België
· Chambre Nationale des Antiquairs Belges
· Oriental Ceramic Society (London)
· Vereniging van Vrienden der Aziatische Kunst (NL)

Opening times:

The gallery in Bruges is open, every day from 9 to 19h
(Visits on appointment are very much appreciated)
We are also accredit assessors for insurance companies, customs and law-court.